King Saud Ibn Abdul Aziz Al Saud
1902-1969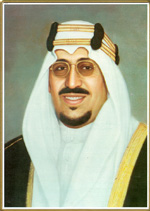 Saud Ibn Abdul Aziz Ibn Abdul Rahman Ibn Faisal Al Saud was born in the city of Kuwait in 1902, the same year in which his father King Abdul Aziz recaptured the city of Riyadh from Al Rasheed. Moving with other members of the Al Saud family from Kuwait to Riyadh, he later took part in both politics and war. In the meantime he learned government and administrative methods. He led the first campaign against Hayel in 1921 (1339 H.) and commanded Saudi forces during the Yemen war. Saud also participated in running the affairs of the Kingdom's Central Region. On the 11th of May 1933 (1351 H) he was sworn in as Crown Prince. When his father King Abdul Aziz passed away in 1953 (1372 H), Saud assumed power and was officially recognized by the Ulema and citizens. His brother Faisal became Crown Prince.
Saud's Remarkable Achievements Emulating his father King Abdul Aziz, he strove to protect the country and safeguard its independence and Islamic principles. He was also keen to enhance cooperation with Arab and Islamic nations and adhere to the charters of the Arab League and the United Nations. Ministries established during his era included those of education, agriculture, commerce and communications. Giving attention to Islamic affairs, King Saud established religious institutes to teach the provisions and fundamentals of Islam; in addition, he founded Quran memorization schools. He ordered the printing of Islamic religious books, expanded the Prophet's Mosque in Al Madinah Al Munawwarah and began the expansion of the Holy Mosque in Makkah Al Mukarramah. Other achievements included the asphalting of roads and the development of the army which he supplied with sophisticated weapons. King Saud University, the Kingdom's first, and King Abdul Aziz Military Academy in Riyadh, also the country's first, were established during his era. King Saud's rule continued until the second of November 1964 (1383 H), when Crown Prince Faisal Ibn Abdul Aziz was appointed King. King Saud passed away in 1969 (1389 H).