Old Dhahran Airport Photos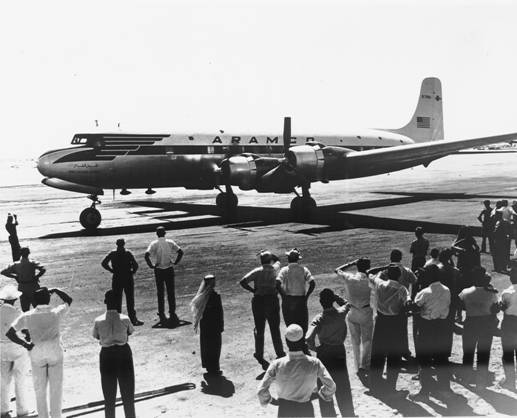 Group of people looking to the airplane "The Flying Camel" after landing in Dhahran 1950's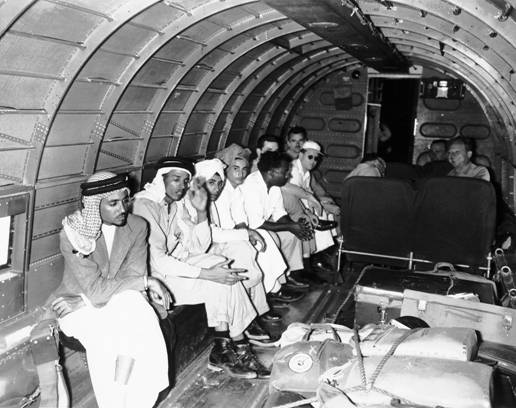 Airplane interior. Going to Dhahran. 1947.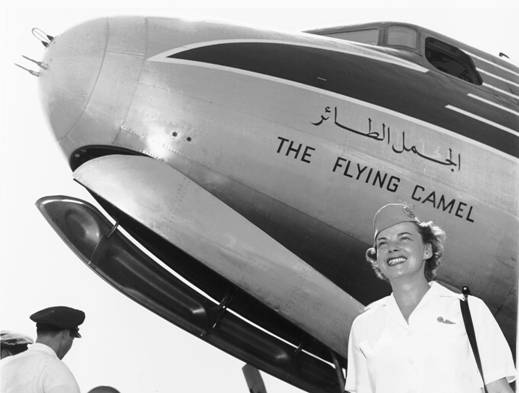 New "Flying Camel", Aramco airplane arrives in Dhahran,!952.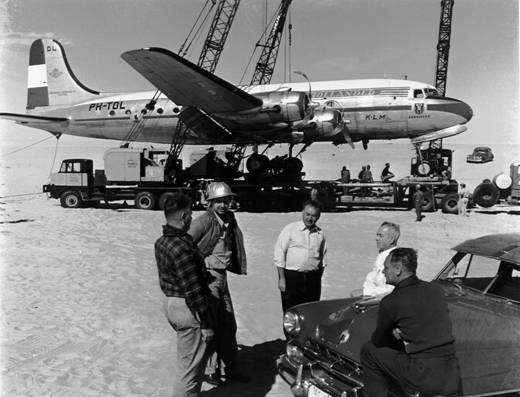 KLM DC-4 Plane crash; From left: Herman westerhuis, KLM section chief; Chuck Mead, (crane & rigging); Dexter Carpenter, Douglas Aircraft Rep.; K.R. Webster, Dhahran District Manager; Bob Lugten, KLM technician. Three Aramco cranes lift the giant KLM DC-4 onto a truck bed near Qatif where the plane crashed on January 2,1953.
Aramco's Kenworth tops the first sand dune on the way to Dhahran with its unique load of airplane .KLM technicians and Aramco riggers keep a weather eye out for any signs of trouble. This low angle shot shows the slight damage apart from bent props and flaps suffered by the plane when it was set down in the desert at 2 a.m. on January 2,1953.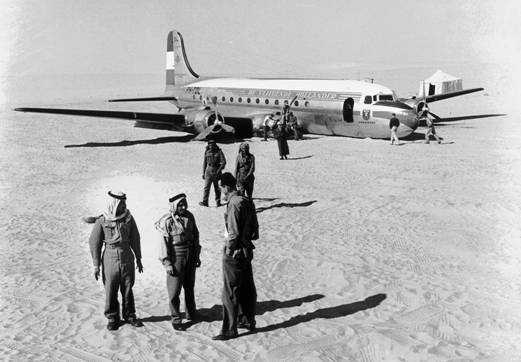 Saudi soldiers guard wreckage of KLM Dc-4 commercial flight near Qatif on Friday morning, January 2nd, before any hoisting operations. None of the 66 passengers were injured. Qatif, December,1952.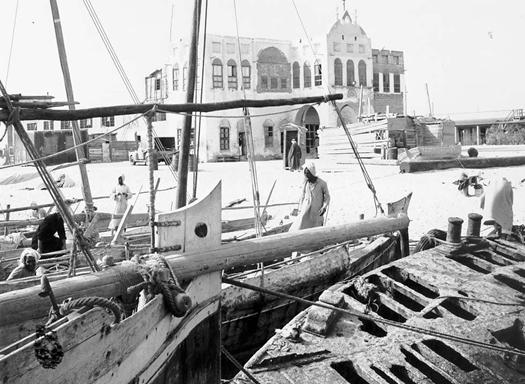 A view of the Ras Tanura Government
Customs House, 1952.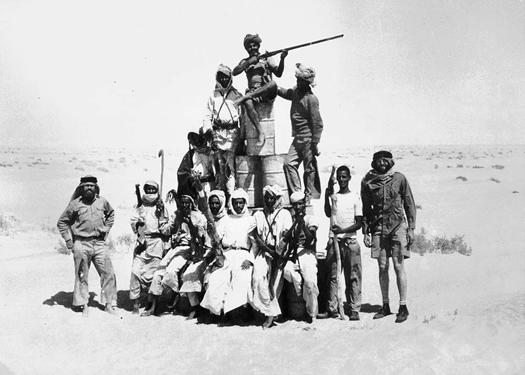 The personnel of camp No.4, the Lorry Camp,
"Strike a Pyramidal Pose." Jerry Harris stands at the far left
and Tom Barger at the far right, 1938.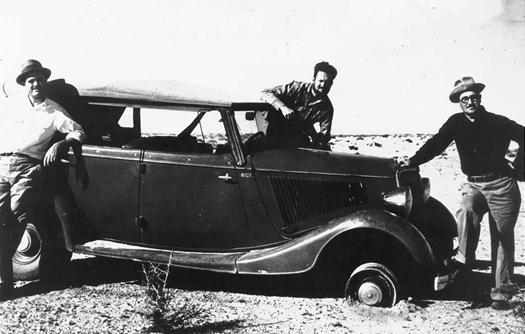 F.A. Davies, T.F. Jerry Harris and Allan Weymouth coming
in from the desert on three wheels, 1936.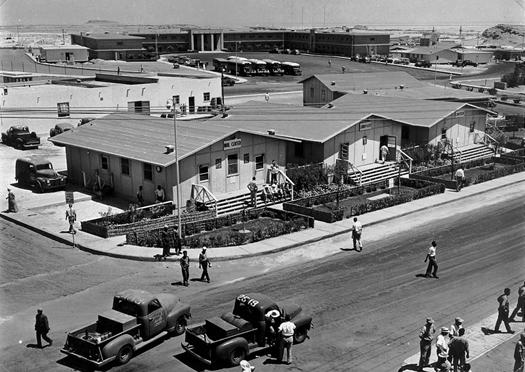 The Community Center consisted of a commissary, canteen, post office, and laundry. A view of the Dhahran Headquarters Office Building is in the background, 1952.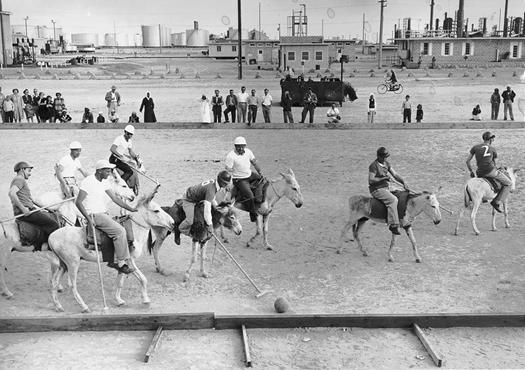 A Polo game using donkeys.
Ras Tanura, 1950s.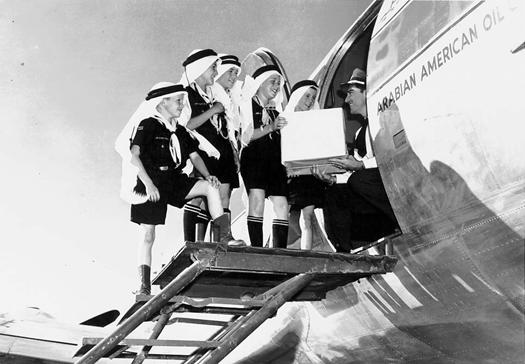 Boy Scouts preparing to board an Aramco plane, 1949.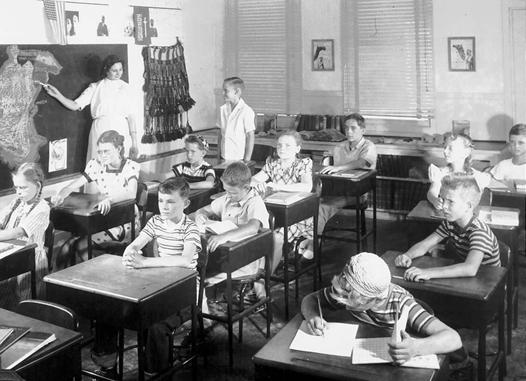 A class at the American School in Dhahran, 1948.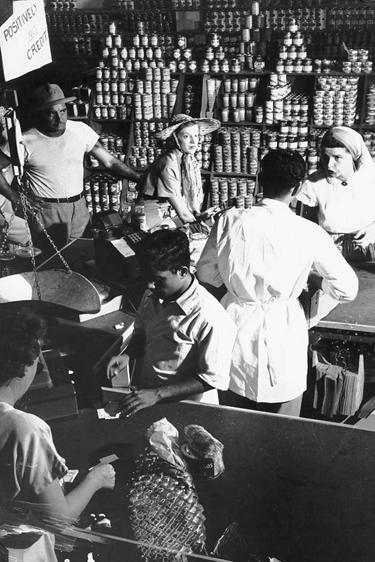 Shoppers at the check out center of the
Dhahran Commissary, 1950s.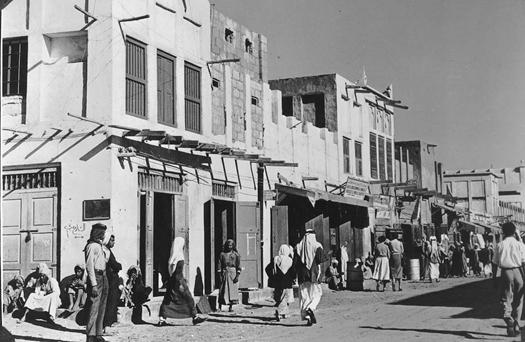 Shoppers strolling down King Saud Street in Al-Khobar.
Later the main shopping area moved to King Khalid Street.
May 25, 1954.